4 best island in Mactan Cebu for Island Hopping
4 Best island in Mactan Cebu is the best island for island goers and a diving spot.The marine sanctuaries of these islands is a snorkeling haven and is home to colorful coral reefs and well-protected fishes. Whether you  want to see a distressed damsel fish or a funny clown fish or sea anemones, parrot fish and batfish among others. On to the next hop stop, you can find scrumptious lunch served picnic-style on the beach. Get a taste of grilled seafood, chicken, pork or beef and fresh fruits for dessert. With a satisfied belly, you can soak up the sun on the sandy shores, take a dip in the pristine blue sea or talk to some local fishermen (their stories will amaze you!) By mid-afternoon, it's time to head on back to the Baybayon docks.
NALUSUAN ISLAND
Nalusuan is actually a hectare long man-made island resort located in the Cebu Strait which is one of the islands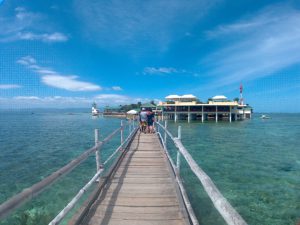 included amongst the Olango Island Group found between Bohol and Mactan Island (part of Cebu). Although it is under the town of Cordova (also a part of Cebu), the area used to be a sandbar which later underwent land reclamation in order to build the Nalusuan Island Resort. Nalusuan was named after the local Cebuano term "kalusuan" which literally means a "place for penises." The term was coined by local fishermen who fish in the area and called it as such due to the presence of sea cucumbers, which resemble the male genitals.
Nalusuan is actually a fish sanctuary. The resort that operates in Nalusuan maintains and regulates the activities in the island. Nalusuan is a good choice for snorkeling as well as beach bumming activities. Not only that, the northwestern side of the island is a host to a gorgeous, shallow flat. You can also rent a room if you want to spend a night in the island. A restaurant is also available to serve meals. The island's landing fee is ₱200/pax.
HILUTUNGAN ISLAND
Hilutungan Island is one of the best places for beginners in diving and snorkeling. It is a marine life protected area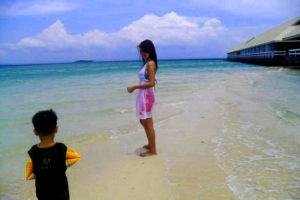 and is the oldest in the province. Due to the conservation efforts, you can observe or experience one of the best collection of marine specie in Cebu..Although it is a protected area, the local government allow tourism in the area. This island is open to snorkelers and divers who wish to experience the beauty of the sea world in this tropical part.
There are numerous dive shops and tour operators that regularly offer services and facilities that will bring to this marine sanctuary. Like Nalusuan Island, Hilutungan Island is also a fish sanctuary where guests can enjoy swimming with the inhabitants of the deep. Entrance fee to the island is ₱100/pax. Scuba divers will have to shell out 200-peso more to explore the marine communities down below its fluvial domain.
PANDANON ISLAND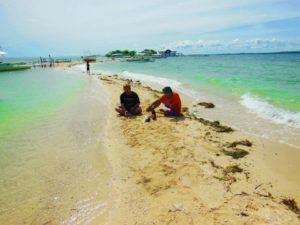 Pandanon Island is located east of Mactan, south of Olango Island, and north of mainland Bohol. It is actually a part of Bohol island that features a stunning white sand bar and clear aquamarine, surrounding water. .Pandanaon is one hour away from Mactan which makes it very accessible to tourists visiting the Mactan or Cebu City. The island is perfect for family swimming through its white sand beaches with shallow waters and cottages you can rent. A sand bar which extends to a nearby island is also an attraction along with local cogon grass products. Unlike other islands, Pandanon has no place for divers. Aside from the vast sandbar found east side of the island, you can take great pictures of the unfinished structures located near the cottages. There is also a beach volleyball facility that could be a great group recreation while on the island's white-sands. The main island where the sand bar is attached is also a thriving fishing community. Fishermen offer affordable fresh seafood deals to visitors daily. There is a small resort that operates in the sand bar where cottages are available for rent. The entrance fee is ₱150 per person while cottage rentals start at ₱250.
OLANGO ISLAND
Olango is definitely on our list. The Talima Fish Sanctuary, which is also located in the tourist belt area of the Olango Island is also sanctuary haven that will give you different species of fish and corals that  you will certainly love nature more! You could stay at the Talima Beach Villas and Dive Resort. This resort offers amenities ranging from poolside bar, car park, room service, currency exchange, bicycle rental and access to the fish sanctuary. Talima however, has no sandy beaches; you could reach the sanctuary by trekking the rocky cliff with man-made stairs. You will surely be be amazed by the variety of fish as they swim gracefully, just like they are making a pictorial, the fish pose for the camera! Visit fee here is ₱50 per person.
check out our cebu island hopping packages and boat rental the link.