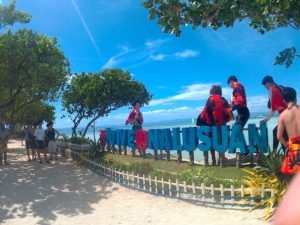 Whether you are feeling stressed, bored or depressed or just itching for another crazy adventure, Nalusuan island is a great place to be! It's a perfect spot to leave everything behind and experience nature and life that only the ocean can give.  It is also an amazing marine sanctuary so it's a great spot for diving and snorkeling.
The long sand bar of Nalusuan island is a sanctuary to all the  marine creatures and to the nature lovers. You can literally reach at arm's length with the abundance of sea life here. The fishes that you have only seen in your plates will be see here in their natural habitat.You will feel like you are a part of the sea, the island and the life under water.
The resort that operates in Nalusuan maintains and regulates the activities in the island. This place is a great choice for snorkeling as well as beach bumming activities. Not only that, the northwestern side of the island is a host to a gorgeous, shallow flats where you can spend a night on the island. The island is essentially a private resort featuring accommodations and cottages built on stilts. It also has its own restaurant that serves fresh sea foods. The island's landing fee is ₱200/person. The resorts stresses out the environmental awareness of their guests.  ​Information about life under the sea is also available for the guests of the resort. The information also raises awareness on the importance of preserving marine resources to ensure future generations can benefit from them.  The ecological activities conducted in the area resulted to a number of positive results on the marine life around the island. Because of these activities, visitors can look forward to seeing moray eels, Malabar groupers, and stingrays, among others, in the area.
The Nalusuan Island and Marine Sanctuary is just one of the places in Cebu where visitors can look forward to a warm welcome and the chance to explore the beauty of the world of nature under the sea.  Surely it is a place that will amaze you!