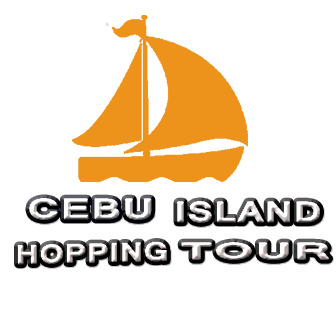 When is the best time to do island hopping in Cebu?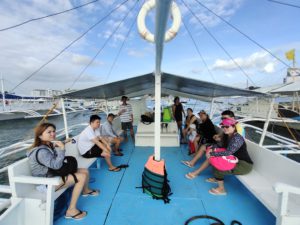 A lot of my friends who are  foreigners keep on asking me about when is the best  time to do island hopping in Cebu? So to answer their question, I decided to write this blog to bring out this topic for everyone to stay informed especially foreigners who don't know much about our weather here. In this blog, I'll provide a month-to month overview of the weather and what to expect for island goers out there. Let's get started!
January
The weather in January is a little bit cold in early mornings and afternoons around 4pm. January is still the rainy season as our weather bureau said. We could  experience low pressure during this month, but only a rainmaker not a typhoon. The tidal waves in the seas are not that huge. Island goers for this month are usually local and a few foreigners like Koreans and Japanese. Almost the entire month of January are sunny days, so I would  recommend this month to do an island hopping.
February
February is colder than January in the Philippines. We could experience a little rainfall during the afternoon and in the evenings.  Only little or just natural sea waves during this love month. There will be strong sea current in the afternoon which I experienced last year. It was very strong that I could hardly swim. Nevertheless, February is still recommended to do an island hopping in Cebu.
March
March is quite different. It's usually the star of summer in the Philippines, particularly around the middle of the month. Last year, we experienced 34 degrees Celsius. It was indeed very hot so it's very calm on the sea and has no waves which is perfect for island hopping. Thus, I highly recommend this month to do such activity.
April
April is categorically summer in the Philippines. The temperature ranges from 34 to 36 degrees Celsius this month. This is the time we're most locals especially students do island hopping since it is the start of their school breaks and vacations. Americans and British people love this weather because they can sunbathe. No rain is involved this month and the sea is very calm. I would also highly recommend this month to do the island hopping in Cebu.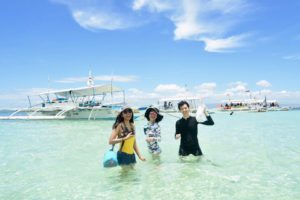 May
May is the best month for island hopping businesses like ours. This is the busiest month of the year because a lot of bookings flock in almost everyday . Most of our clients opted for our Cebu island hopping packages. Most of the clients too are foreigners and they come as groups of family members. The temperature this month is the same as April.
June
June is quite a combination of dry and wet season. Half of June is summer and the other half is rainy. Mid June is the start of our rainy season here. Most of the rain happens during the afternoon until evening. Yet, no worries about going out for this month as waves are still on moderate mode and you can still enjoy Cebu island hopping. 
July
July is a rainy month. We could experience rain most days in July. This month is usually the beginning of the typhoon season here in the Philippines. Don't worry, most of the typhoons in July will hit Luzon, the upper regions of the country. The sea wave is a little bit fussy for this month.
August
August is the worst month for me.  This month is the start of the southwest monsoon.  We can experience bigger waves in the whole month. Sometimes the rain will never stop for 2 weeks so definitely not recommended to do an island hopping.
September
The month of September is an unpredictable month. During the day it's kind of hot but in the afternoon it will rain. When there is rain, there are also big waves in the seas. But you know what, my American client loves the month of September because of  big waves. He really enjoys big waves. Therefore, it really depends on you on whether to do island hopping for this month. 
October
October is the beginning of the typhoon season here in Cebu. Don't worry, you can still book with us. Typhoon is just one day. As far as I know, there are only 1 or 2 typhoons that hit  the Visayas regions, not Cebu. Everytime there is a typhoon that hits our neighbouring province, we will automatically cancel our cebu island hopping tours.
November
November is also considered as a typhoon season here. It's been almost 8 years since we experienced typhoons here and that was typhoon Yolanda. There are 2-4 typhoons on average that will landfall to our neighbouring provinces. If there is no typhoon, only southwest monsoon will happen for the whole month.
December
December is a huge rainy season here. There was just one typhoon that hit northern Cebu a few years ago. Everything is calm in the sea if there is no typhoon. The waves are just moderate and the current is slow. I recommend the month of December to be a great time to do island hopping in Cebu.  
Overall, Cebu has a pleasant year-round tropical climate, instagram-worthy and world-class beaches so there's really not a bad time to do island hopping trips or cebu boat rental. I hope this blog helps you in choosing when to do your next island hopping escapade. For a richer island adventure and to help you experience a trip that fits perfectly to your taste, budget and preferences, Cebu Island  Hopping Tour is here to serve you!